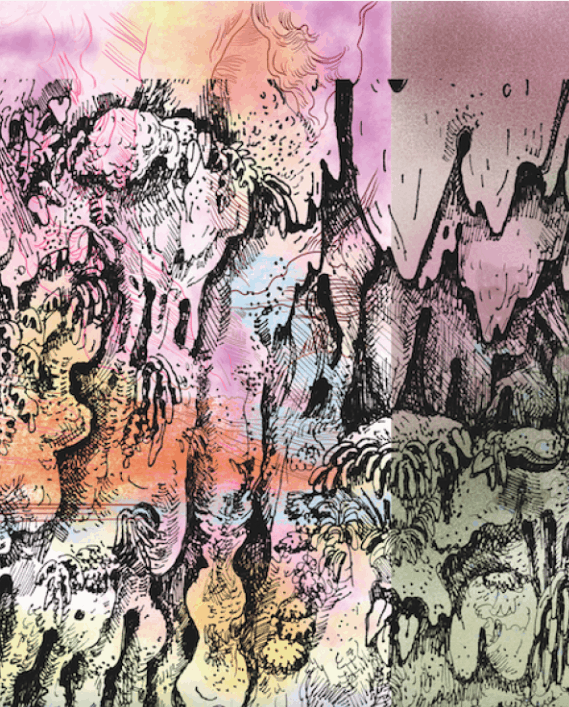 JANUARY 18 TO AUGUST 16, 2020
7BIS, RUE NEUVE BOURG, 14000 CAEN
Sorry, we couldn't find any posts. Please try a different search.
The exhibition Rufus by Florentine and Alexandre Lamarche-Ovize borrows its title from the children's book by the famous cartoonist Tomi Ungerer, who recently passed away.
This book forms the basis of the exhibition conceived by the artists as a narrative in the form of a landscape that invites a wandering punctuated by games of scales, textures of drawings that are available in volumes, in ceramics, in paintings highlighting their prevalent interest in the practice of decorative arts.
Unpublished motifs related to the world of the book Rufus rub shoulders with the recurring ones – flowers, octopus, mussels, fragments of landscapes – from their notebooks, endless imagiers that are full of references to reality as well as to classical painting or landscape.
Tomi Ungerer tells the story of a bat that discovers the world, cinema and color what Lamarche-Ovize transposes into the exhibition through a constant back-and-forth between black and white and color. Charcoal drawings and silkscreen prints from the walls scan the exhibition's path. The motif of a cave printed on a large fabric that floats in space also concentrates this issue. In the space, a set of ceramics takes place on dressed pedestals favouring the domestic aspect of the whole to the hierarchy between the work and its support.
Also in this relationship to the servant, the artists present a series of unusual works-objects: seats, stools, bench with tiles of earthenware in round hump, etc.
The Rufus exhibition alone condenses Lamarche-Ovize's issues, including the freedom and autonomy claimed in the process of creation visible to all and whose prolific and limitless result is akin to a gesture of resistance to any kind of framework.