13 March 2019 - 9 January 2020
ARTISTS: Lucy + Jorge Orta
Curator: Blandine Roselle
Even though the practice of drawing is an essential component of their projects, Lucy and Jorge Orta have never shown the complete process of their creation, which relies in particular on drawing.

For Drawing Lab, the artists reveal this hidden aspect of their work. Their drawings show a work in germ, moving, changing, evolving, in the making. Far from being a simple transcription of the steps of a project, they also feed the reflection and evolution of the project. Drawing allows the idea to emerge without stating it. The visitor thus accesses creation in its continuity: thought paths, development of a concept, crossovers of ideas, capture of information or reading sensations.

The exhibition also explores multi-handed drawing. How can drawing foster collaboration? In addition to being a duo of artists, the Orta's develop an approach based on encounter, exchange, involvement and cooperation. At the heart of their project, this dimension is also, physically, at the center of the Drawing Lab Center: a new, collaborative work, realized in-situ, conceived as a work-in-progress, will emerge over the course of the exhibition. Starting from the practice of drawing, as a lever for exchange and reflection, it will lead to a complete wall of productions.

The other spaces bear witness to the favourite themes of Lucy and Jorge Orta and synthesize their research. A new opportunity for artists to reinterpret their works with a recomposed and enriched presentation. Hanging explores new ramifications between its components, a new form of tree-based installation, another way to interact with visitors.
Blandine RoselleException
Curator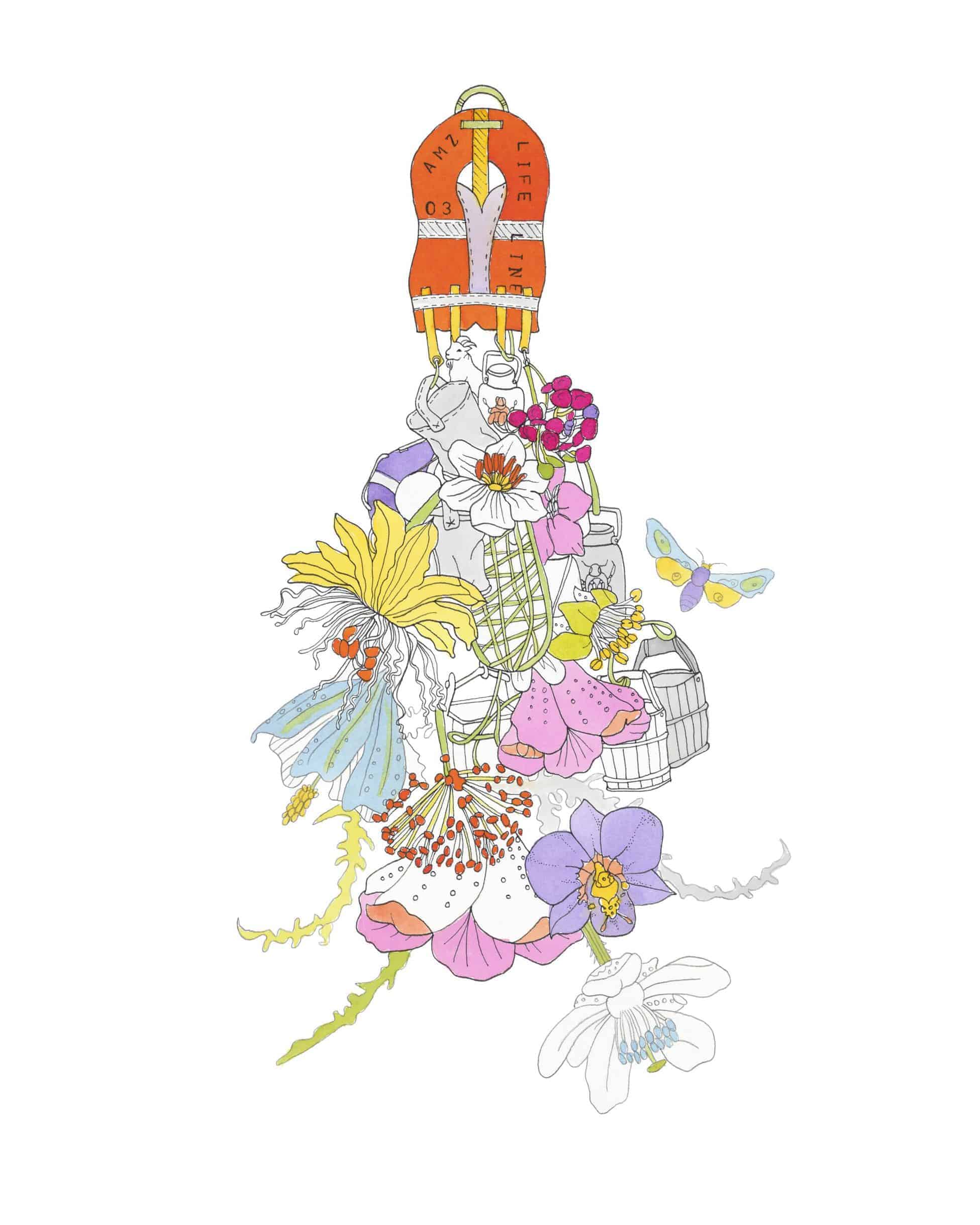 Lucy - Jorge Orta, Amazonia Life Line, 2010
Pigmented ink, pencil and watercolors on Fabriano paper
Studio Orta ©
THE DUO ARTISTS / CURATOR
LUCY + JORGE ORTA
The works of Lucy + Jorge Orta have been the subject of numerous monographic exhibitions: The Representation of Argentina at the Venice Biennale (1995); The Curve, Barbican Art Gallery, London (2005); Fondazione Bevilacqua La Masa, Venice (2005); Museum Boijmans Van Beuningen, Rot-terdam (2006); Bienal del Fin del Mundo, Ushuaia and the Antarctic Peninsula (2007); Hangar Bicocca spazio d'arte, Milan (2008); Natural History Museum, London (2010); MAXXI, Rome (2012); Yorkshire Sculpture Park (2013); Herbert F. Johnson Museum of Art, Ithaca and Parc de la Villette, Paris (2014); Attenborough Arts Centre, Leicester and City Gallery and Art Museum, Peterborough (2016).
In 2007, artists received the Green Leaf Award from the United Nations Environmental Programme in partnership with the Natural World Museum at the Nobel Peace Center in Oslo, Norway, for their artistic excellence and environmental message. In 2013, Lucy + Jorge Orta won the inaugural public commission commissioned by Terrace Wires for St Pancras International Station in London, for which they created Cloud Meteoros,a monumental installation.
Their works can be found in public and private collections. Many monographic works have been dedicated to them.
Lucy and Jorge Orta founded Studio Orta in 1992. They work between London, Paris and Les Moulins, an artistic research centre created by artists to enhance industrial heritage through contemporary art. Les Moulins is located in the grand Morin valley in Seine- et-Marne over an area of 8 km, comprising four historic factories: the former mills of the Paris Paper Mills, Le Moulin de Boissy and the Moulin Sainte-Marie; La Laiterie and le Moulin de la Vacherie. Artists' studios and residencies are being rehabilitated, as well as a sculpture park to promote the production and dissemination of experimental works in situ.
Blandine Roselle
Blandine Roselle is the artistic director of the Kraft association, dedicated to the visual arts (exhibitions, residencies, competitions) since 2005. The projects confront various fields (contemporary, traditional, popular or urban arts, design, architecture, etc.) and unfold in the form of cycles to explore different points of view on a given subject. A historian of art by training, Blandine Roselle moved in 1999-2000 in the museum world, before embarking on a structure of production and distribution of live performance. After obtaining a DESS "international artistic cooperation" in Paris 8 in 2004, she is commissioned by various structures (Lille 2004-European Capital of Culture, lille3000, Epidemic, Oxylane Art Foundation, Mons Foundation 2025), both for programming, hosting projects and artists, as well as for the production of exhibitions. She will also work on the conversion of disused places into exhibition and cinema spaces (St. Savior's station, Lille; the garage for Bethune2011, Regional Capital of Culture). Independent since 2013, she is dedicated to the curatorship of exhibition and the presentation of works in the public space.
His exhibitions have been presented in Belgium, Brazil, China, France, Italy and Poland. She has participated in several European professional seminars ("Eyes wide open" – Berlin Biennale (BB5), 2008; "Berlin Cultural Scenes" – Goethe Institut Berlin, 2009, "10 to 10" – European Congress of Culture in Wroclaw, 2011). She was the laureate of the curatorial residency of the Maison Populaire.