January 20 — March 31, 2023
« Nous qui désirons sans fin » is the title of Karine Rougier's solo exhibition at Drawing Lab. Awarded the Drawing Now Prize in 2022, the artist is taking advantage of this invitation to propose a real collective walk. From drawings realized with graphite or gouache to paintings, via watercolors, and from films to slideshows, her exhibition offers more than one story. This exhibition is a collection of stories by Karine Rougier and her special guests.
Her new drawings reimagine Nature with a combination of human and animal forms. Physical bodies and hidden powers come together in a unique and mesmerizing embrace. Filled with vibrant vital energy, Karine Rougier's compositions stem from a liberated gaze which imbues each figure with passion and power. Karine Rougier's miniatures were originally inspired by the illuminations of Clavis Artis alchemical manuscript from the late 17th or early 18th century. But they resonate deeply with the urgency of today's climate challenge, by touching upon the power of nature, and the relationships between living creatures and the elements. "We are the children of a devastated world, trying to be reborn in a world waiting to be created. Learning to become human is the only radical thing to do." Raoul Vaneigheim.
At the Drawing Lab, Karine Rougier explores her artistic world in new ways. Playing with scale and techniques, she blurs the boundaries between reality and fiction. Her drawings teem with details and include icons and characteristics from civilizations around the world. Her drawings teem with details and include icons and characteristics from civilizations around the world. Drawing has always been a core part of her art. And its wealth of detail has viewers move closer to explore her art's many meanings.
In this free-flowing exhibition where water and body fluids create a bond, Karine Rougier revisits and revives those antique images, as if protecting herself from today's terrifying reality. She opens up our hearts to magic and tenderness, while giving a voice to imaginary monsters and other worlds. All this as she explores the universal nature of hugging, breastfeeding, and the physical intermingling of bodies as sources of love and subjective or collective energy.
Drawings rise from the paper and come to life in two short films Karine Rougier made with Valérie Pelet. Created at the Centre de Conservation et de Ressources (CCR) in the MuCEM2 in Marseilles thanks to a Mécènes du Sud production grant, their short films feature both playing and divination cards. These cards span several centuries and have been carefully cataloged by and stored in Marseilles' CCR. The duo's films compare the aesthetics of the gestures involved in archiving cards versus playing cards, both vainly seeking to reduce the role of chance. Whether on land or in water, the drawings in Karine Rougier and Valérie Pelet's films play with the cards' various details, up to and including the stars and the gods.
Karine Rougier has also extended two invitations. First and foremost, Karine Rougier invited Stephen Ellcock who is a collector of images, researcher, and author, notably of books from which the artist often sourced images. Stephen Ellcock has picked images that echo Karine Rougier's work, thus inverting the regular sequence of events in her artistic process. Since they share common interests in cosmology, illuminated manuscripts, alchemy, magical texts, and all forms of esotericism more generally, a fruitful dialogue occurred like a "cosmic dance"
And since she teaches at the Beaux-Arts de Marseille art school, Karine Rougier also asked students to "narrate in miniature form" using playing cards and divinatory cards. Their artistic responses take the form of drawn and photographed slides which, in the exhibition, are shown in projected images.
« Nous qui désirons sans fin » is an expedition into the vast world of drawing. It is an invitation to pick and play a card, an invitation to behold a new world.
Steven Vandeporta
Director of artistic projects and exhibition coordinator of the Prize
#NousQuiDesironsSansFin
@drawinglabparis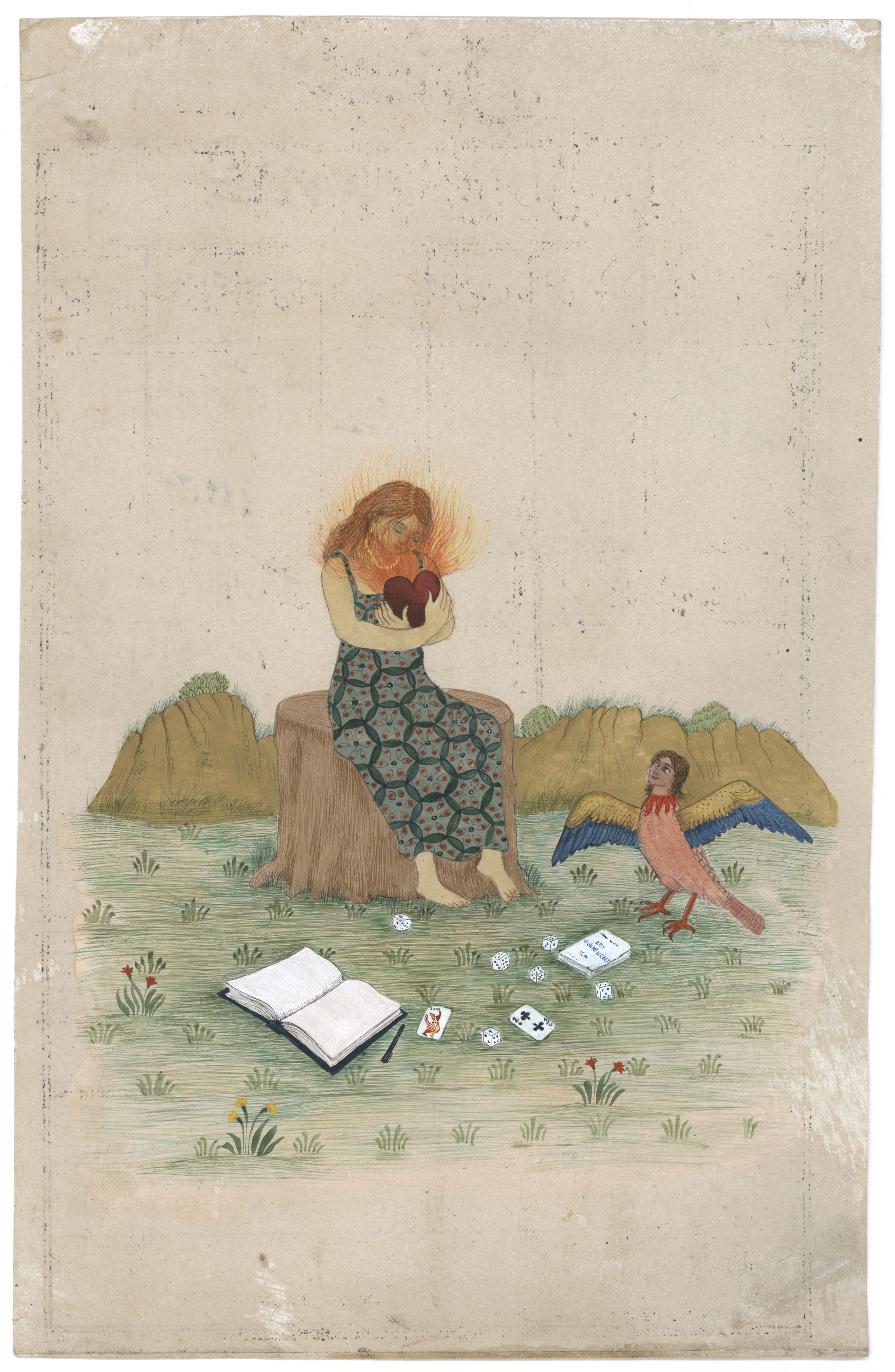 Karine Rougier, Sans titre — Série "Maintenant, vivantes", 2022
Pigments and watercolor on wasli paper, 32.5 x 21 cm.
© Courtesy galerie Espace à vendre
Drawing Academy Workshops
Every Wednesday and Saturday 18, 25 February and 4 March 2023, the Drawing Lab offers your children (from 6 years old) a tour of the exhibition with our mediator followed by a creative workshop using the artist's technique.
Book a workshop for your child now by e-mail by clicking here!
Exquisite menu

Karine Rougier's exhibition is directly inspired by tarot and divinatory cards but also icons and attributes from all civilizations of the world. Thus every detail of the exhibition " We who desire without end" comes from this universe so dear to the artist.
It's your turn to create your own playing cards through the exquisite corpse technique. Take out your pencils, unleash your imagination and let yourself be carried away in the creation of your cards ... It's up to you!
Mysterious Good Point
In schools, good points were often materialized in the form of small coupons that students kept preciously. Ten good points could be exchanged for one image. The Drawing Lab offers you your good points following your visit to Karine Rougier's exhibition and invites you to create your own image.
Bring your pair of scissors, tube of glue, colored pencils and markers to make your own good point!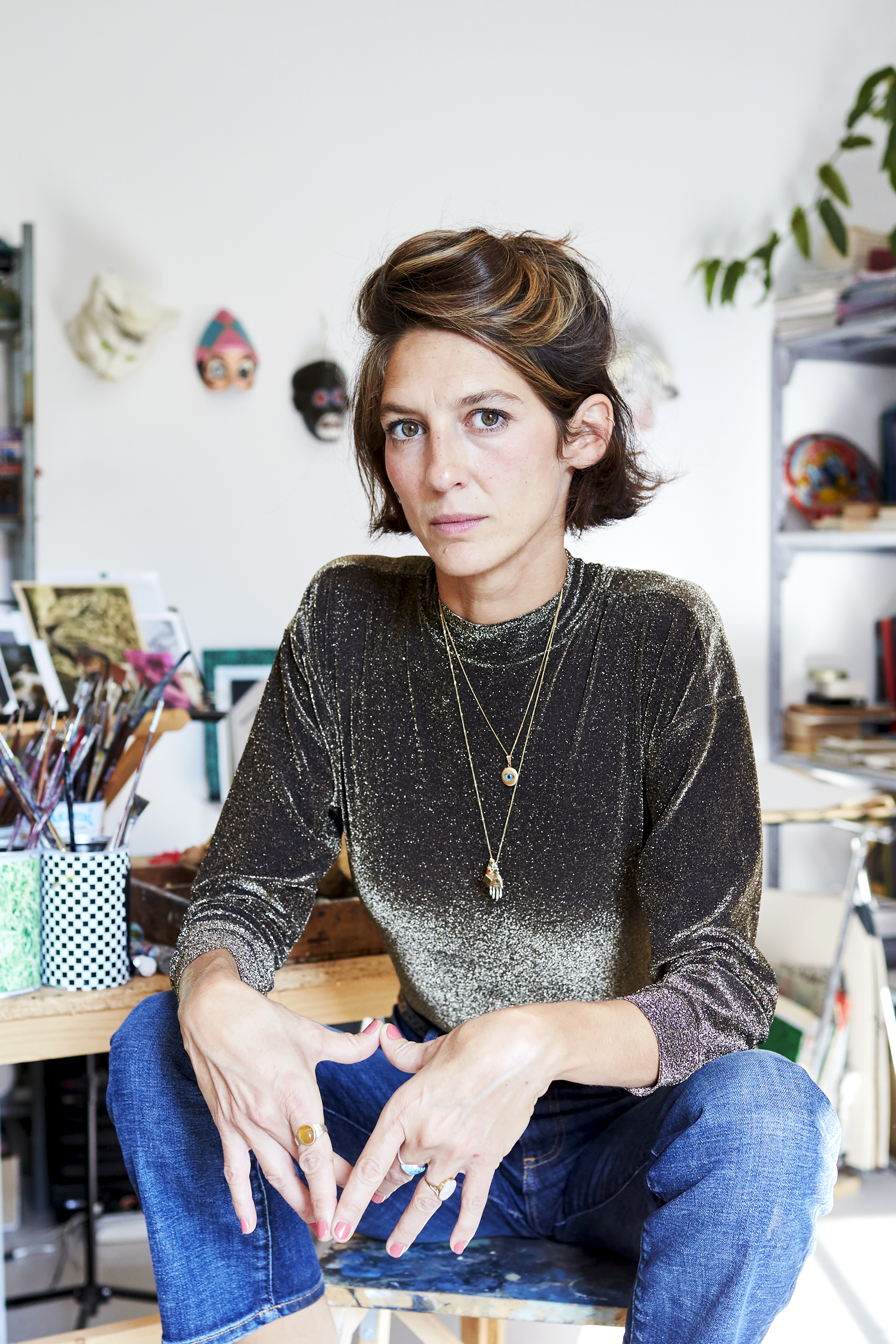 Portrait of the artist © Magali Dougados
Karine Rougier
Born in 1982, lives and works in Marseille. Represented by Espace à vendre gallery in Nice since 2005.
Karine Rougier's drawings reimagine nature, with both human and animal shapes mixing and merging. Bodies and invisible powers unite in a single, spellbinding embrace. Watercolor washes over these shapes on paper and, like the receding tide, leaves only some details. A handful of lines stay and catch the eye.
Filled with vibrant vital energy, Karine Rougier's compositions stem from a liberated gaze which imbues each figure with passion and power. Karine Rougier began her studies at the Swiss decorative arts school Les Arts Décoratifs de Genève and continued at the French art school École supérieure d'art d'Aix-en-Provence. She has been teaching at the Beaux-Arts de Marseille art school in France since 2018. Karine Rougier represented Malta at the Venice Biennale in 2017.
Since 2011, the Drawing Now Prize has been used to support a drawing artist and to salute the work of his gallery. The Drawing Now Prize is supported by the main patron SOFERIM. The goal is to encourage the work of a mid-career designer, which is a complex moment for creation.
On the occasion of this 11th Drawing Now Award, the formula evolves in order to give more scope and visibility to the winning artist's practice and implement this award as a creative support grant where the Drawing sphere - in particular the Drawing Now Art Fair and the Drawing Lab - joins forces to offer: €5,000 endowment, 10,000 euros in production aid, a 3-month exhibition at the Drawing Lab and the publication of a monographic catalogue. The selection of the nominees and the winning artist was made by the members of the selection committee of the show, composed for the 2022 edition of:
— Joana P.R. Neves, curator, freelance writer, artistic director of Drawing Now Art Fair;
— Émilie Bouvard, art historian and heritage curator;
— Anita Haldemann, Deputy Director, Head of the Art & Science Department at Kunstmuseum Basel;
— Catherine Hellier du Verneuil, art historian and collector;
— Pascal Neveux, director of the Fonds Régional d'Art Contemporain Picardie;
— Philippe Piguet, art critic and independent curator (artistic director of Drawing Now Art Fair from 2010 to 2018);
— Daniel Schildge,collector;
— Annabelle Ténèze, director - les Abattoirs, Museum of Modern and Contemporary Art - Frac Occitanie Toulouse ;
— And the main sponsor of the Prize: SOFERIM, represented by Jean Papahn, founder and president.
Winners of the Drawing Now Prize since its inception in 2011:
Catherine Melin (2011), Clément Bagot (2012), Didier Rittener (2013), Cathryn Boch (2014), Abdelkader Benchamma (2015), Jochen Gerner (2016), Lionel Sabatté (2017), Michail Michailov (2018), Lucie Picandet (2019), Nicolas Daubanes (2021), Karine Rougier (2022) and Suzanne Husky (2023).