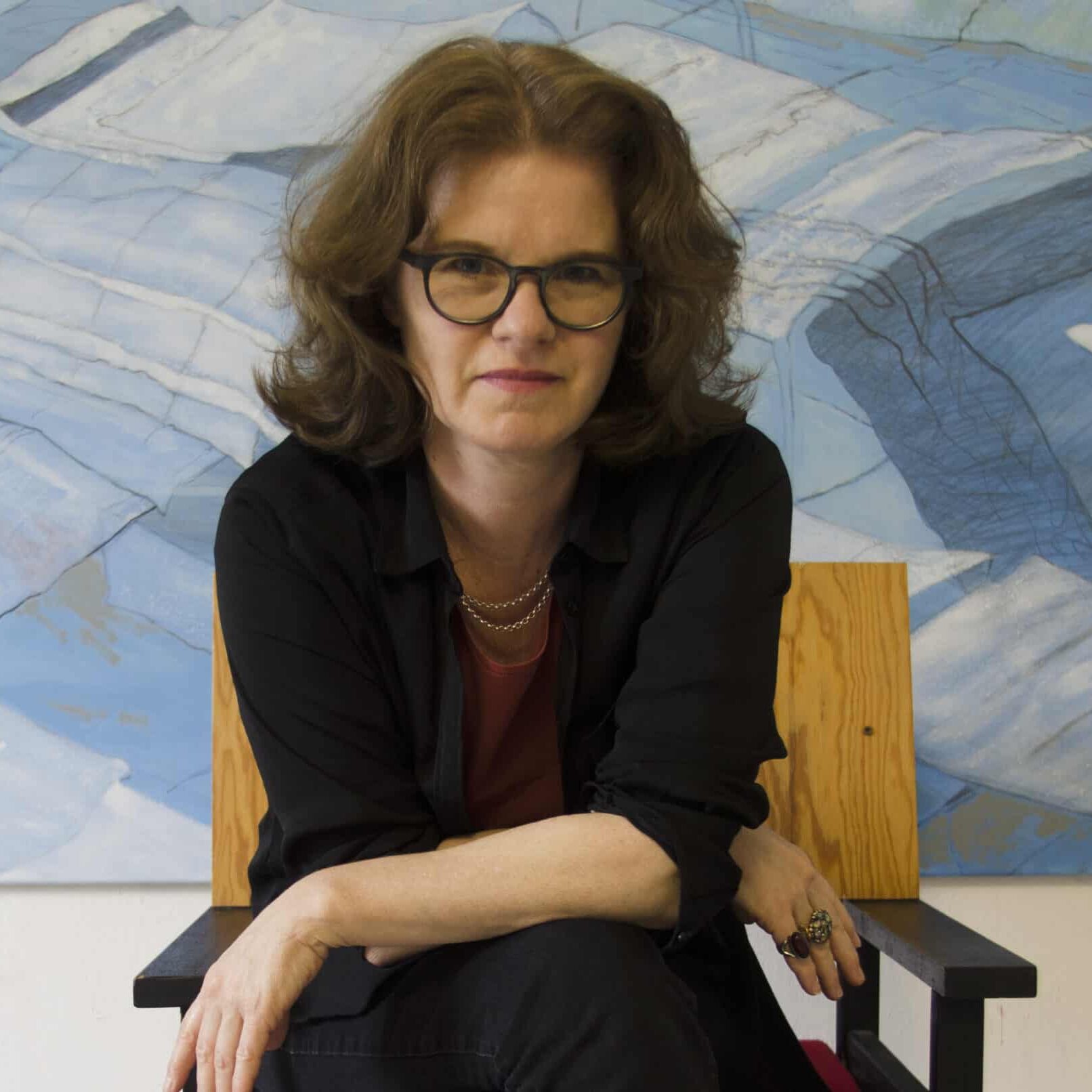 Born on March 8, 1966 in Bolzano, Italy
Lives and works in Vienna
The Projective Drawing was an opportunity for me to participate in Brett Littman's wonderful concept. It was very rewarding to see my drawings in the neighborhood alongside Master Moriguchi and Keita Mori, it gave my work a new legibility, and of course more visibility.
Brigitte Mahlknecht studied painting in Vienna after graduating from a technical school in Bolzano.
Her long stints in New York, Berlin and Mexico City were formative, as was her involvement in the thought processes of other artistic media, such as experimental poetry and visionary architecture. The profession of graphic illustrator to clarify scientific processes and higher-dimensional spatial structures in non-Euclidian geometries were also part of the formation and development of his artistic language. Brigitte Mahlknecht's main mediums and event spaces are drawing, drawing on paper, painting on canvas, murals, videos, animations and photographs. One of its main themes is space as an experiential space, space in the phenomenological sense, as a psychological state, superimposed, interpenetrated and intertwined spaces, space as poetic space and as a political space.
In her series Fast Architektur (2017), the Viennese artist Brigitte Mahlknecht appropriates the visual language of architecture as urbanism to create drawings of modular objects. By studying Mahlknecht's line drawings, which resemble both monumental architecture and piles of cardboard boxes, we see that the artist has left the geometric shapes unresolved. The intentionally "unfinished" state obscures the distinction between interior and exterior, sound design and instability. Deliberately defying interpretation, the readings of Mahlknecht's work oscillate. When a viewer perceives a sketch for a modernist building, another viewer can identify an abstract tangle of intersection lines. In Fast Architekture, as in his broader practice, Mahlknecht explores the difficulty of describing spaces imbued with a mathematical logic that contradicts the phenomenological experience. (Brett Littman)
GROUP EXHIBITIONS
2020-2021 – Elsewhere … or further afield,17.6.2020 – 7.3.2021, Frac Centre-Val de Loire, Orleans (France). Artists: Daphné Bengoa, Deborah Benzaquen, Sophie Calle, Sonia Gassemi, Klaus Gartler and Helmut Rieder, Jochen Gerz, André Guiboux, Mouna Jemal Siala, Oum Kalthoum, Brigitte Mahlknecht, Manthey Kula, Naziha Mestaoui, Giovanna Silva, Lawrence Weiner
2019 – A moment before the world,Biennale Rabat, 24. 9. – 18. 12. 2019, Rabat (Morocco). Artists: about 65 International Female Artists
2019 – The Projective Drawing, 27.6. – 20. 9. 2019, Drawing Lab Paris, Paris, France. Artists: Naomi B.Cook, William Cordova, Lionel Favre, Sara Flores, Brigitte Mahlknecht, Keita Mori, Master Moriguchi, Raha Raissnia, Judith Saupper and Leopold Strobl.
2018 – Grafein, Scrivere il segno / Writing the Sign, 7.9. – 4.11.2018, Museale Palazzo Ducale di Mantova (Italy). Artists: Around thirty graphic works from the Renaissance to the present, including Peter Paul Rubens, Alfred Kubin, Oskar Kokoschka, Louis Soutter, Camille Pisarro, Jean-François Millet, Hermann Nitsch, Arnulf Rainer, Walter Pichler, Giosetta Fioroni, Bruno Munari, Sergia Avveduti, Giuseppe De Mattia, Brigitte Mahlknecht.
2018 – The Projective Drawing, 6.2. – 13.5. 2018, Austrian Cultural Forum New York (USA). Artists: William Cordova, Lionel Favre, Sara Flores and the Shipibo Conibo Center, New York, Simona Koch, Brigitte Mahlknecht, Judith Saupper, Seher Shah, James Siena, Katron Sigurdard-ttir, and Leopold Strobl